Born in South Wales in the UK, Lezley joined the entertainment industry in a professional capacity back in 1994, starting off as a 'coat style entertainer' on UK holiday resorts. During those seasons, Lezley gained a confidence when performing live that she believes could only come from experiences such as those, experiences that mean she is able to easily form a rapport with almost any audience.
Following her final season, Lezley became a singer in several bands, touring the UK and performing residency contracts in the UK & overseas. Some of Lezley's favourites include Le Royal Meridien Bahrain (now the Ritz Carlton), Hyatt Regency La Manga in Spain and Grand Hyatt Muscat in Oman.
In more recent years Lezley has been flying solo and can not only be regularly seen in various parts of the UK performing as a cabaret artist but also heard as a recording artist, with her voice being used on jingles, dance tunes as well as part of the choir in the Icelandic 2021 Eurovision entry. '10 Years', by Daði Freyr & Gagnamagnið (which came 4th!) Is she going to milk this fact? You betcha!
As well as her recording work as a singer, Lezley has undertaken voice-over work, recording jingles, adverts and story narration, but most recently has started producing her own podcasts as well as appearing as a guest on other people's.
NAME DROPPING
Over the years, Lezley has been fortunate enough to perform in front of some great and well known people. As well as performing by request at Lord Stirling's 65th birthday party in La Manga (Murcia, Spain) and at the official winners party for the Qatar Superbikes Championship in Doha, Lezley has also had the pleasure of having in her audience, amongst others, 'The Only Way Is Essex' cast member Dan Osborne, the Croation National Football Team, British football clubs Leicester City FC, Coventry City FC and Lezley's favourites, Newcastle United, including Alan Shearer and the late, greats Gary Speed and Sir Bobby Robson, Hollywood actor Jeff Goldblum, Norman Pace of UK comedy duo Hale & Pace, journalist and TV presenter Piers Morgan, famous Irish group The Commitments and good friend, Rock Legend, the late Stuart Cable of The Stereophonics.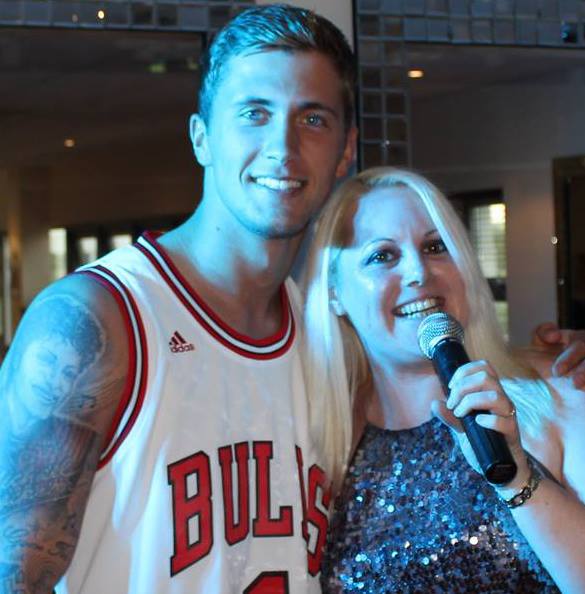 Lezley pictured above with Reality TV Star Dan Osborne at a charity football event and below, back in 2000 with Gary Speed & Alan Shearer after a performance in La Manga.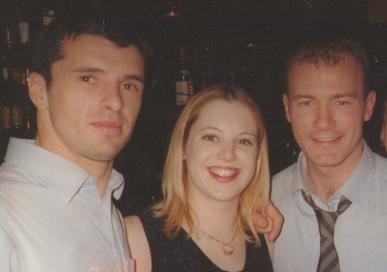 ''Meeting the boys of the Toon Army (Newcastle United) was definitely a highlight of my time in Spain even though I did make a bit of a plum of myself. I got chatting to one of the players and I said that even though I was a Newcastle supporter I had to be honest, I didn't really know anyone apart from Shearer, to which he responded by telling me that the Welsh Captain played for them, yes, I was talking to Gary Speed! Doh!''