Throwing a 60's themed event or party? Or do you just love those classic tunes? Whatever your plans, if you're looking for someone to put on a 60's show that's guaranteed to get everyone's feet tapping then look no further, GROOVY CHICK is the show for you.
Below are just some of the tracks taken from the Groovy Chick CD.

Please click on the play icon to play each track.

These Boots Are Made For Walking.mp3
Last Train To Clarksville.mp3
You Don't Have To Say You Love Me.mp3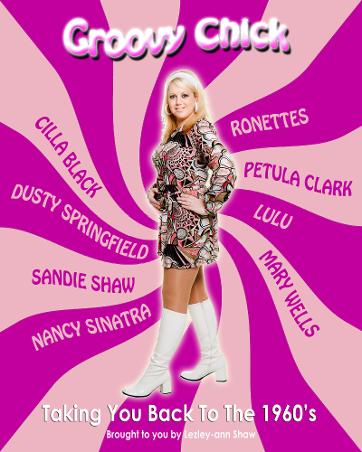 Whether you're a big company or a small business, throwing a special birthday party for a relative or celebrating your big day, you can't go wrong with this show, from well known songs that everyone will know, to those forgotten classics that you haven't heard for far too long.
This show comes fully costumed to fit the 1960's theme, with or without a full PA system and is available for anything up to 2x45 minute spots.